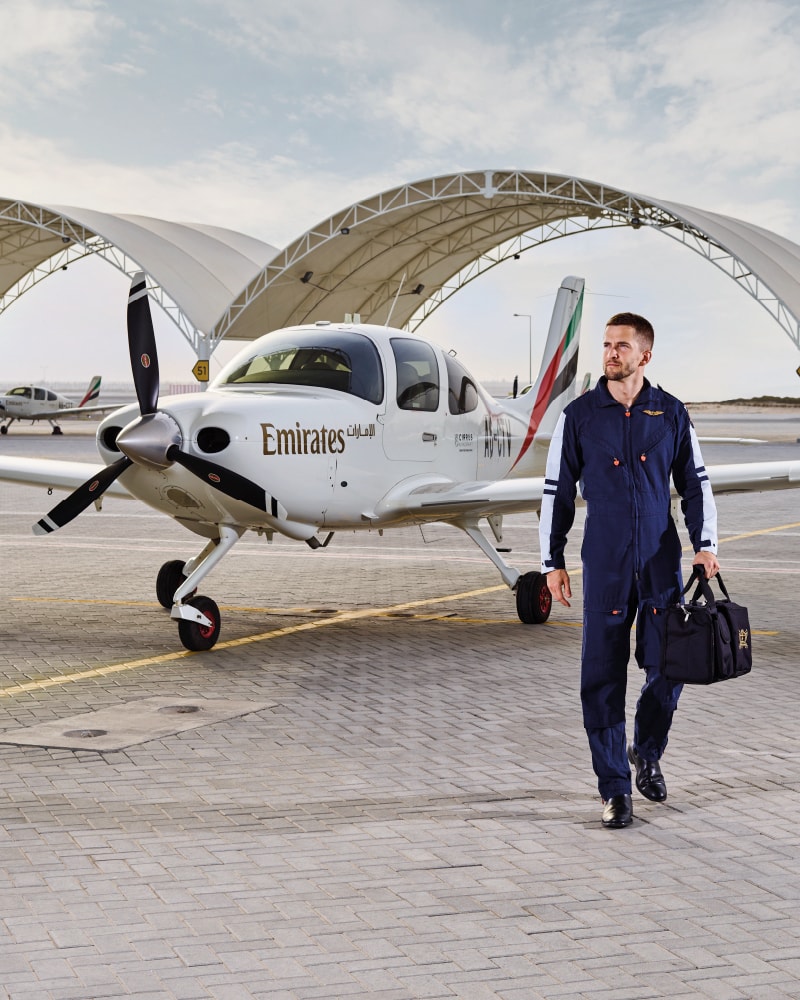 Join the future of aviation
Play Video
Become the pilot you've always wanted to be on a world-class programme at Emirates Flight Training Academy (EFTA)
Join one of the most advanced pilot training courses in the world at our academy in Dubai. Using state-of-the-art technology and flight training in advanced multiengine aircraft, you can learn the skills to fly a Boeing 777 aircraft to the level of a commercial airline pilot.
nationalities enrolled
cadets in training
authority exam pass rate
Training Facilities
Explore the Emirates Flight Training Academy (EFTA) in Dubai South, Dubai World Central (DWC). Our facilities include our own airport and air traffic control tower, fire and rescue services, maintenance hangar, and state-of-the-art training and simulator facilities.
Explore our facilities
The course
This challenging ATPL (Airline Transport Pilot Licence) programme uses the latest cutting edge technology with bespoke software created by Boeing for EFTA. Through a mix of self-learning and training with our experts, the course takes you from zero flying hours to the level of first officer – with the exclusive chance to apply to Emirates straight from graduation.   
Learn more about the course
The lifestyle
Join an international team of cadets on our campus in Dubai - one of the most exciting cities in the world. Live in your own serviced apartment at the academy with all your meals included in the course fee. There are shops, a mosque, and a fitness centre with a pool and spa when it's time for a break.  
Find out more about our campus
Find out what it's like at EFTA straight from one of our graduates as they share their journey.
Download our prospectus
Take a closer look at the full programme. Our prospectus gives you further details about what to expect of your pilot training on the ground and in the air.
Download
Frequently asked questions
You're welcome to visit our state-of-the-art facility to ask questions and have a tour. Our working hours are from Monday to Thursday 0800 – 1530 and on Friday, 0800 – 1500. Please make an appointment before you visit.
The Emirates Flight Training Academy ATPL course duration is approximately 113 weeks and is divided into a theoretical knowledge course and practical flying.
View all FAQs
{"data":[{"id":"18397398994046439","media_type":"IMAGE","media_url":"https://scontent-lhr8-1.cdninstagram.com/v/t51.2885-15/403959298_726914942187338_8846269098974853334_n.jpg?_nc_cat=108\u0026ccb=1-7\u0026_nc_sid=c4dd86\u0026_nc_ohc=s0lRnS7a1gIAX-Z52GZ\u0026_nc_ht=scontent-lhr8-1.cdninstagram.com\u0026edm=AEQ6tj4EAAAA\u0026oh=00_AfBILiqByQKWB7i4h8tkjK_FmLXyOn5H6T_rA1DrVq3-2g\u0026oe=6568CC61","permalink":"https://www.instagram.com/p/C0EQnDuMI1j/","children":null,"caption":"Our flying gem. \uD83D\uDC8E\n\n#EmiratesFlightTraining","thumbnail_url":null},{"id":"17904481187890804","media_type":"IMAGE","media_url":"https://scontent-lhr6-1.cdninstagram.com/v/t51.2885-15/403925345_872567287899633_4114675841203086306_n.jpg?_nc_cat=110\u0026ccb=1-7\u0026_nc_sid=c4dd86\u0026_nc_ohc=Wpaeb1RKZEcAX-enYhi\u0026_nc_ht=scontent-lhr6-1.cdninstagram.com\u0026edm=AEQ6tj4EAAAA\u0026oh=00_AfBQ4pefht5QpJWpoe-z5say9MJG0JQ6aRSRFuN-pjcitg\u0026oe=6568BEB0","permalink":"https://www.instagram.com/p/Cz_Rb6bRZln/","children":null,"caption":"Ready to take the first step in your flying career? \uD83D\uDEE9\uFE0F\n\n#EmiratesFlightTraining","thumbnail_url":null},{"id":"17890652972941392","media_type":"VIDEO","media_url":"https://scontent-lhr6-2.cdninstagram.com/o1/v/t16/f1/m82/924EFBA43065A2BFE4308DCC722058A0_video_dashinit.mp4?efg=eyJ2ZW5jb2RlX3RhZyI6InZ0c192b2RfdXJsZ2VuLmNsaXBzLnVua25vd24tQzMuNzIwLmRhc2hfYmFzZWxpbmVfMV92MSJ9\u0026_nc_ht=scontent-lhr6-2.cdninstagram.com\u0026_nc_cat=110\u0026vs=1661327474395774_1012729192\u0026_nc_vs=HBksFQIYT2lnX3hwdl9yZWVsc19wZXJtYW5lbnRfcHJvZC85MjRFRkJBNDMwNjVBMkJGRTQzMDhEQ0M3MjIwNThBMF92aWRlb19kYXNoaW5pdC5tcDQVAALIAQAVAhg6cGFzc3Rocm91Z2hfZXZlcnN0b3JlL0dJRzZBaGlHcndsRVFzUURBS0RMcUktMjZfUWNicV9FQUFBRhUCAsgBACgAGAAbAYgHdXNlX29pbAExFQAAJrC5lZPGw%2B4%2FFQIoAkMzLBdAOaPXCj1wpBgSZGFzaF9iYXNlbGluZV8xX3YxEQB1AAA%3D\u0026ccb=9-4\u0026oh=00_AfDP9W0CinF9XKNW_AD-xJ9fUlFXrq2vvz9KqY5SdqiLvw\u0026oe=6565F2B7\u0026_nc_sid=1d576d\u0026_nc_rid=d6f67ec3e5","permalink":"https://www.instagram.com/reel/CztQQHHyDI_/","children":null,"caption":"We\u2019re soaring high at @Dubai_airshow_official!\n\n#EmiratesFlightTraining","thumbnail_url":"https://scontent-lhr6-2.cdninstagram.com/v/t51.29350-15/401554820_160236153844303_4286769768084750515_n.jpg?_nc_cat=104\u0026ccb=1-7\u0026_nc_sid=c4dd86\u0026_nc_ohc=3WD-ruEtgmIAX-AbinT\u0026_nc_ht=scontent-lhr6-2.cdninstagram.com\u0026edm=AEQ6tj4EAAAA\u0026oh=00_AfBIKI2YVMWTPpk_hE-ZFh7Rbnod6un6sjKyvtcR3mwNdQ\u0026oe=6568523F"},{"id":"17948166284709424","media_type":"IMAGE","media_url":"https://scontent-lhr8-2.cdninstagram.com/v/t51.2885-15/400030702_1082346426362957_2406824388340105929_n.jpg?_nc_cat=101\u0026ccb=1-7\u0026_nc_sid=c4dd86\u0026_nc_ohc=J1GlSnVaS0IAX__Ft8o\u0026_nc_ht=scontent-lhr8-2.cdninstagram.com\u0026edm=AEQ6tj4EAAAA\u0026oh=00_AfCpIp092Y8_TYosMY26z00-DWtFeWQ01P7cXSNLE_2cRA\u0026oe=6568F2A5","permalink":"https://www.instagram.com/p/CzdozaxRZgB/","children":null,"caption":"We\u0027re \u0022Cirrus\u0022 about flying. \uD83D\uDEEB\n\n#EmiratesFlightTraining","thumbnail_url":null},{"id":"18047430805481428","media_type":"IMAGE","media_url":"https://scontent-lhr8-2.cdninstagram.com/v/t51.2885-15/399536961_311355665078961_8068399460621826126_n.jpg?_nc_cat=106\u0026ccb=1-7\u0026_nc_sid=c4dd86\u0026_nc_ohc=kADXfYtZHhwAX91-yBB\u0026_nc_ht=scontent-lhr8-2.cdninstagram.com\u0026edm=AEQ6tj4EAAAA\u0026oh=00_AfApkBPSqkViuwHfHPLy1rFjP1cocUzAfsMGkfMOKKthYA\u0026oe=65683CBB","permalink":"https://www.instagram.com/p/CzV6gBHMQMN/","children":null,"caption":"Embracing the journey from the flight sim to the flight deck. \uD83D\uDEE9\uFE0F\n\n#EmiratesFlightTraining","thumbnail_url":null},{"id":"18076315879414999","media_type":"IMAGE","media_url":"https://scontent-lhr8-1.cdninstagram.com/v/t51.2885-15/397930742_1359098378369760_6469078805444049221_n.jpg?_nc_cat=107\u0026ccb=1-7\u0026_nc_sid=c4dd86\u0026_nc_ohc=xjSBD9ZCpnoAX8gwgbR\u0026_nc_ht=scontent-lhr8-1.cdninstagram.com\u0026edm=AEQ6tj4EAAAA\u0026oh=00_AfAkK0Hvx2GAm63jFM6cQn1m6ZxgKp23f5k1UGQNp8NnzA\u0026oe=6568F52C","permalink":"https://www.instagram.com/p/CzLE3ifOt24/","children":null,"caption":"We\u0027re flying the flag high as we raise the aviators of tomorrow. \uD83C\uDDE6\uD83C\uDDEA \n\n#UAEFlagDay #EmiratesFlightTraining","thumbnail_url":null},{"id":"17919148091804226","media_type":"IMAGE","media_url":"https://scontent-lhr6-2.cdninstagram.com/v/t51.2885-15/397554740_348031310940671_2056643117511988169_n.jpg?_nc_cat=104\u0026ccb=1-7\u0026_nc_sid=c4dd86\u0026_nc_ohc=rIbWmKeWZe8AX-iFzLv\u0026_nc_ht=scontent-lhr6-2.cdninstagram.com\u0026edm=AEQ6tj4EAAAA\u0026oh=00_AfCpzkzsAbwEinIHThAAi18voQ-mC7iExH3v2ksz1Mg1Eg\u0026oe=65687A10","permalink":"https://www.instagram.com/p/CzGdqgwyltr/","children":null,"caption":"Push it to the limit. \u2B06\uFE0F\u26C5\uFE0F\n\n#EmiratesFlightTraining","thumbnail_url":null},{"id":"17975509970409298","media_type":"IMAGE","media_url":"https://scontent-lhr8-1.cdninstagram.com/v/t51.2885-15/395893950_300851656173291_5886108695248997070_n.jpg?_nc_cat=107\u0026ccb=1-7\u0026_nc_sid=c4dd86\u0026_nc_ohc=XEGD6VsuDqYAX8EmEEK\u0026_nc_ht=scontent-lhr8-1.cdninstagram.com\u0026edm=AEQ6tj4EAAAA\u0026oh=00_AfByfR9qZWJ-sEPn9YaM7J8JCErbwizK-YdKYjxECnAB_g\u0026oe=656874C1","permalink":"https://www.instagram.com/p/Cy8KdcTMb3D/","children":null,"caption":"Getting ready to spread our wings. \uD83D\uDEEB\n\n#EmiratesFlightTraining","thumbnail_url":null},{"id":"17990088188178461","media_type":"IMAGE","media_url":"https://scontent-lhr8-1.cdninstagram.com/v/t51.2885-15/395285497_3712993985692374_6557637225049667759_n.jpg?_nc_cat=108\u0026ccb=1-7\u0026_nc_sid=c4dd86\u0026_nc_ohc=L8MKoaLDy9sAX-pJKa1\u0026_nc_ht=scontent-lhr8-1.cdninstagram.com\u0026edm=AEQ6tj4EAAAA\u0026oh=00_AfCxCLXans-dtZhik7h99idrtr5pPfFqKGzxXPRIHZ24zw\u0026oe=6568C614","permalink":"https://www.instagram.com/p/Cy0wn4xsdz7/","children":null,"caption":"Want to touch the sky? We\u0027re here to guide you as you take off! \uD83D\uDC69\u200D\u2708\uFE0F\n\n#EmiratesFlightTraining","thumbnail_url":null}],"insta_user_data":{"id":"17841406231566614","username":"emiratesflighttraining","profile_picture_url":"https://scontent-lhr8-1.xx.fbcdn.net/v/t51.2885-15/23279909_313984852343907_6066724421807112192_n.jpg?_nc_cat=108\u0026ccb=1-7\u0026_nc_sid=7d201b\u0026_nc_ohc=2-1CtH5LXE8AX91jD5O\u0026_nc_ht=scontent-lhr8-1.xx\u0026edm=AL-3X8kEAAAA\u0026oh=00_AfCcasedO3X0azI62Cok1Qu7Q3SQZKzIrVbNjf1fIfkguA\u0026oe=6569D9B0"}}