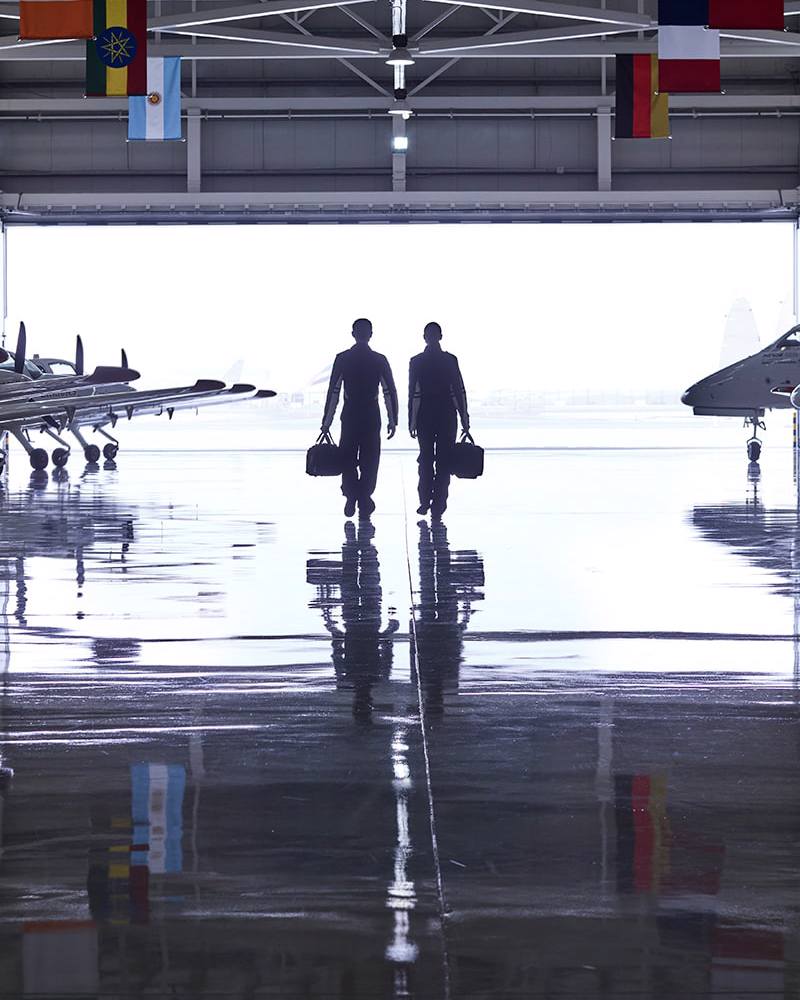 We welcome cadets from around the world to start their journey to becoming a future leading pilot. Have a look at the entry criteria and the steps you need to take to start your course here at the Emirates Flight Training Academy in Dubai. 
Start by checking our entry requirements then apply online, or apply to our scholarship programme if you're a UAE national.
We take in new cadets every other month, so you could start your training at the next available date throughout the year.
Interested international applicants, as well as UAE residents, can take advantage of competitive tuition fees for the two-year training period, which also cover training materials, accommodation, dining, and uniforms, amongst other expenses.
Check the entry requirements
Create a profile and apply online
We'll review your application
Join our assessment in Dubai
Start your pilot training
You don't need any flying experience, but we do have a few other requirements before you apply.
You must be 17 to 26 years old
You're at least 160cm tall and medically fit
You have completed your secondary education (high school) with passes in English, maths and physics
Your English language proficiency meets or exceeds TOEFL 510 or 5.5 per element for IELTS or iBT 65
You're eligible for a UAE student visa if you're not a UAE national
It's easy to apply to EFTA online. We'll review your application and keep you up to date on the status.
Start by creating a profile then begin your application. You'll need to upload a few documents: 
Passport copy, valid for more than 6 months

 

Passport photo

 

High school results transcript

 
We'll review your application within five working days of your submission. We might ask for some more information or a few clarifications on the documents you've uploaded. If we think you have what it takes, we'll invite you to one of our assessments here at the academy in Dubai. 
Not quite ready? You can save your application and come back to it later. Just log in to your profile to make any amends before you click submit.
If your online application is successful, we'll invite you to meet us here at the academy in Dubai. We'll take you through a few skills to make sure you're ready for the course. You'll need to pass each stage over the five-day assessment to begin training.
We'll post a choice of assessment dates on our website and you can select the date most convenient for you. You will need to cover the costs of travel and accommodation, as well as the assessment fees.
Assessment part one - AED 1,500
This covers your maths, physics, compass and psychometric tests, and your interview. You need to make the first payment to secure your place for the assessment.
Assessment part two - AED 4,200
This covers your medical and language assessment. You only need to pay this if you pass the first part of the assessment.
You'll take an online maths and physics assessment that takes one hour for each subject. The assessment consists of 30 multiple-choice theoretical and calculation questions.
The online psychometric assessment builds a picture of your personality traits and there are no right or wrong answers. These traits include leadership, decision-making, emotional stability and work attitude. The test also looks at your abstract reasoning - your ability to adapt and learn from new situations and experiences, as well as your spatial reasoning - which is your ability to visualise patterns in three dimensions.
This is an online aptitude test over five modules. It involves visualisation and the use of controls.
This looks at your:
Hand-eye coordination
Hand-eye-foot coordination
Spatial orientation
Multitask management
Short term memory
This is followed by an interview about your personality and we'll ask you some questions to gauge your aviation knowledge.  
To begin your training, you need to meet the criteria for the GCAA's Class 1 Medical certificate. This involves a chest X-ray and an eye examination. The assessment must be approved by the aviation medical examiners at the GCAA and Emirates Clinic.
We'll check your reading, listening and spoken proficiency in English to make sure you meet the standard level needed to begin your training.
We'll invite you to start your training on the next available date. We take in new cadets every 8 weeks, so you can start at different times throughout the year.  
If you can't join the course yet for any reason, you still have one year to join from the date you received the offer.  
Start your application for the Emirates Flight Training Academy
The course training fee is USD 181,650 (including VAT) for the full training period. This covers:
Your entire training programme
Training materials
Student visa
Accommodation
Uniform
Three daily meals
Your ATPL certificate, Multi Crew Cooperation (MCC) certificate from ETA and your commercial pilot licence with multi instrument ratting (CPL/Multi IR) approved by the UAE General Civil Aviation Authority.
The fee excludes medical insurance, but we can recommend a few providers.
There's a slightly different entry route for UAE nationals joining the National Cadet Pilot Programme.
If you have the passion and commitment to become a world-class pilot, you could be selected for a fully sponsored training programme.  
You must have a valid UAE passport and Khulasat Al Qaid
Age: 17-26 years old
You must have completed Grade 12 with a minimum score of 80% or University/College with a GPA of 3.0 or higher
English: TOEFL PBT 510/IBT 65 or IELTS 6
You must have completed Military service, unless exempted
Medically Fit
Note:- Ministry of Education attestation is required for certificates.
 Information on this page is subject to change.
We're looking for ambitious UAE nationals with the passion and commitment to train as world-class pilots.  
Frequently asked questions
You're welcome to visit our state-of-the-art facility to ask questions and have a tour. Our working hours are from Monday to Thursday 0800 – 1530 and on Friday, 0800 – 1500. Please make an appointment before you visit.
The Emirates Flight Training Academy ATPL course duration is approximately 113 weeks and is divided into a theoretical knowledge course and practical flying.
View all FAQs